Two-Level Cooking Grid for the XL
£ 66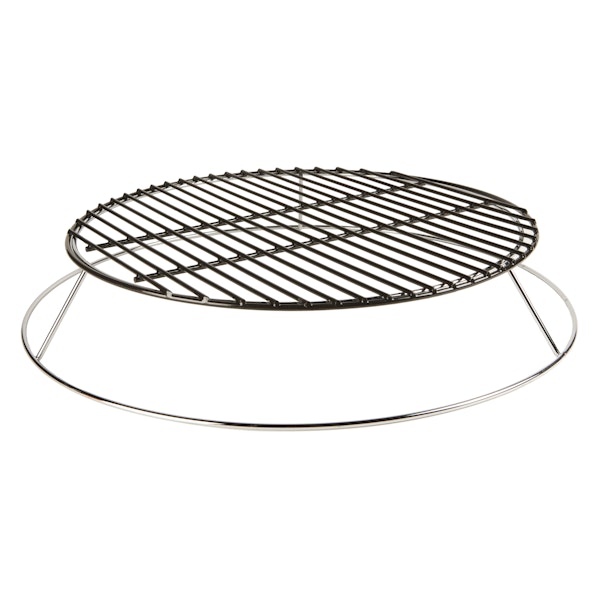 Two-Level Cooking Grid for the XL
Smoking multiple foods at once? Cooking a Low & Slow showstopper for a big crowd? Great news. Our Two-Level Grid nearly doubles the cooking surface area of an XL Big Green Egg by making the most of the height in the dome. For dishes that you add to the EGG and leave alone for a few hours, it's an absolute no-brainer.
Only available for the XL Big Green Egg.
Code: ACXL431
YOUR EXTRA LARGE JUST GOT LARGER
Featuring a chrome-plated steel base and porcelain coated grid, the Two-Level Cooking Grid for XL is the sturdy and reliable way to maximise EGG space. Open sides mean that it's easy to manage your cook.
Please note: this product is only compatible with the XL Big Green Egg.
FAQs
What is Direct cooking?
When you cook at a high temperature in direct contact with the cooking surface, that's searing. This cooking mode falls under the "direct heat" category, as whether you're using a searing grid, skillet, or plancha griddle, you'll be utilising the heat without anything blocking or deflecting it around the dome of the EGG.
What is indirect cooking?
When you're cooking directly, the flames cook your food. That's good for smaller items that take less time to cook or for things that can easily be flipped over. However, if you've got a large cut of meat with lots of connective tissue to break down, a loaf of bread that requires consistent, even heat all around, or something you're looking to roast or smoke at a very low temperature, direct cooking won't cut it for you.
By placing a ConvEGGtor into your firebox (or by using the EGGspander System), you block the direct heat and deflect it around the dome of your EGG. Thanks to the EGG's careful design and amazing ceramics, this heat bounces back to your food, cooking it indirectly.
If you have a lot of grease or food remnants on cooking surfaces, just turn up the temperature, leave it for half an hour or so and it will burn off like a self-cleaning oven. For any stubborn areas or carbonised food you can always use the mesh scrubber or ash tool. Ceramic or cast iron parts should NOT be immersed in water.
There are some classic foods that work great with woodsmoke — like bacon, salmon, and low and slow cuts like brisket or pork belly. However, with a bit of experimentation, you can make all sorts of amazing discoveries. For example, one of our personal favourites is smoked sticky toffee pudding!