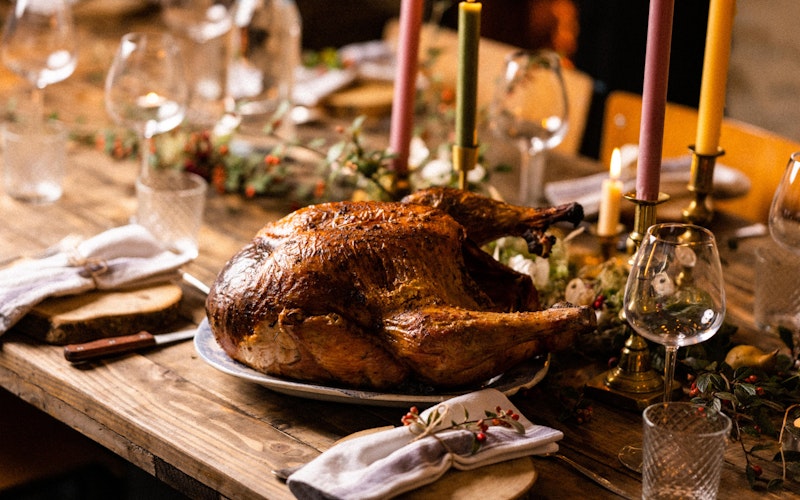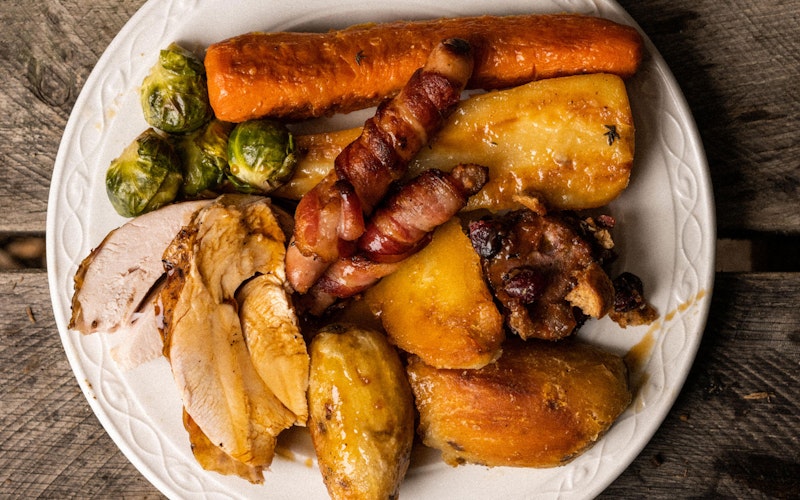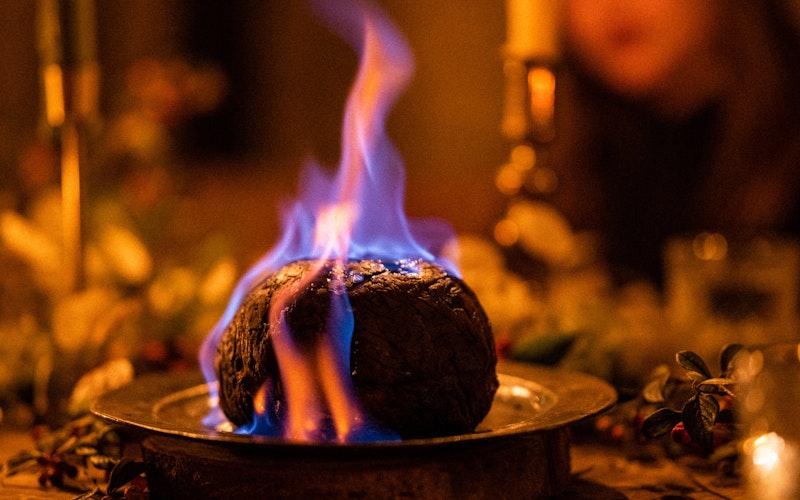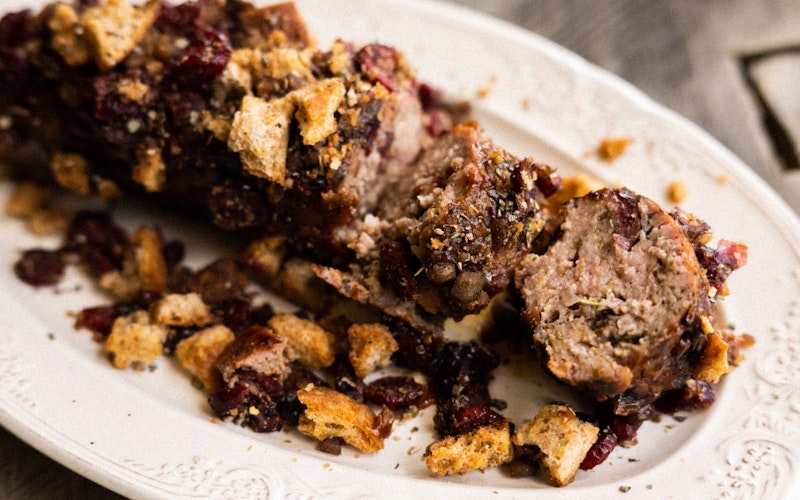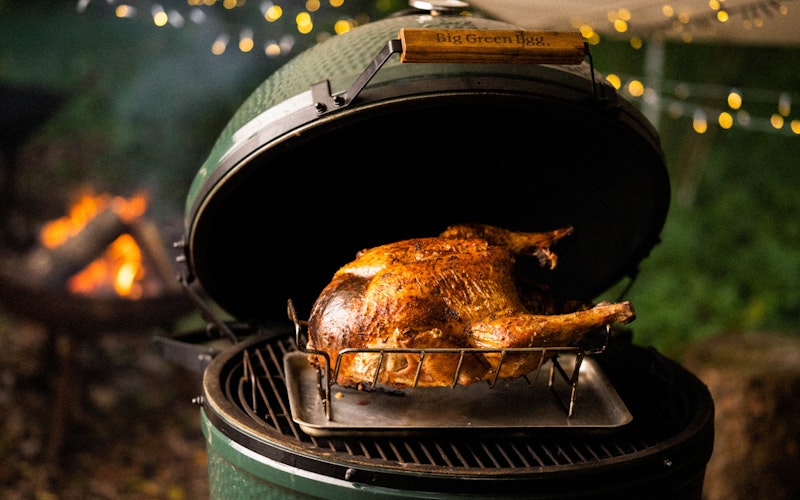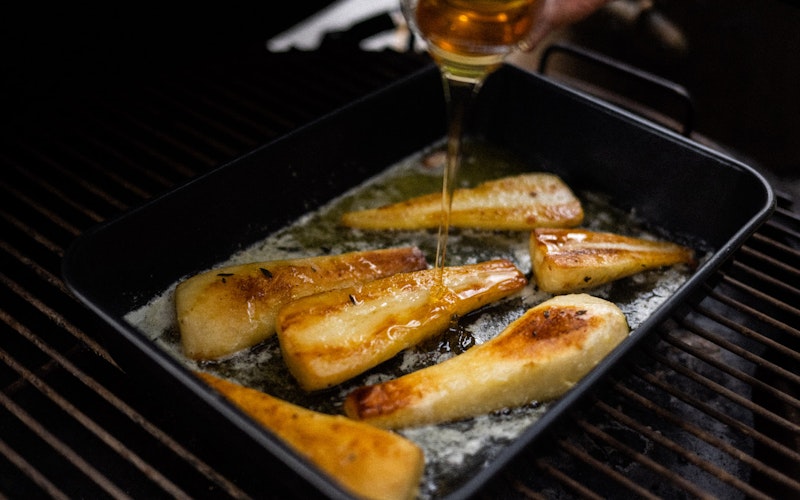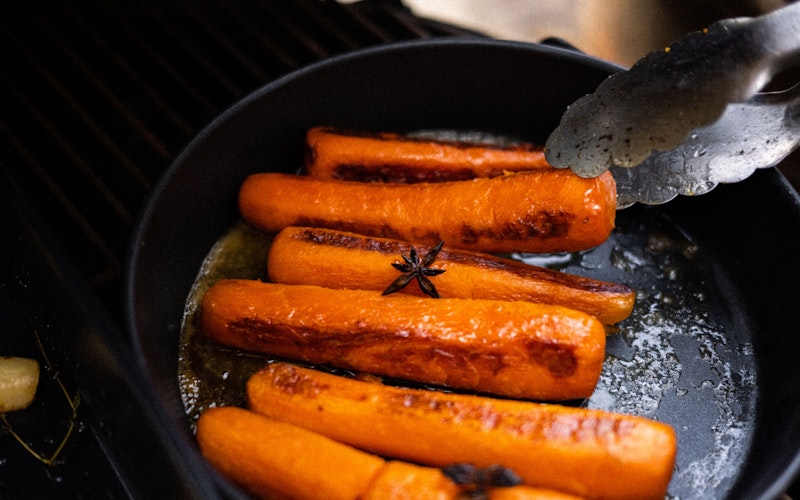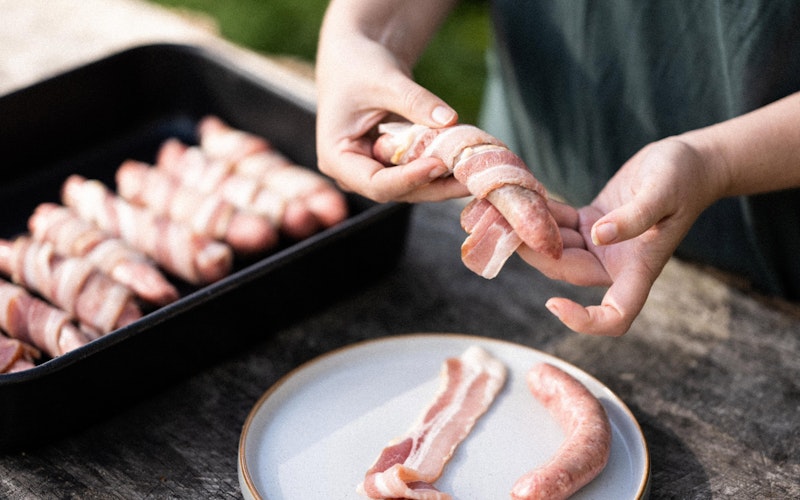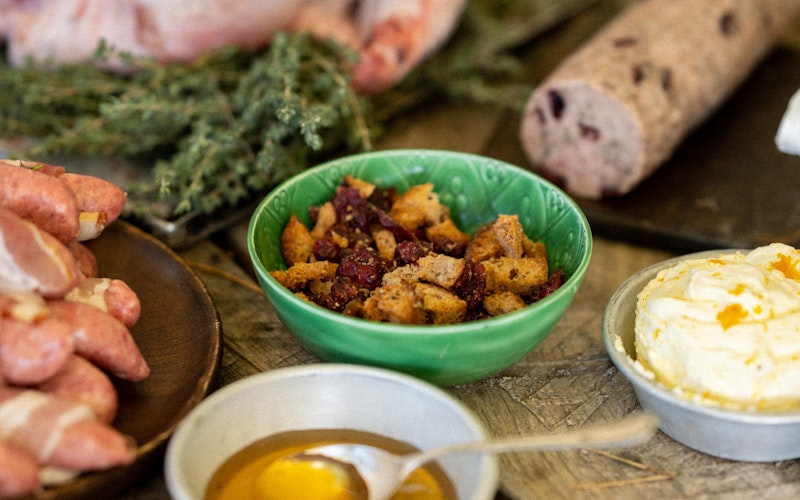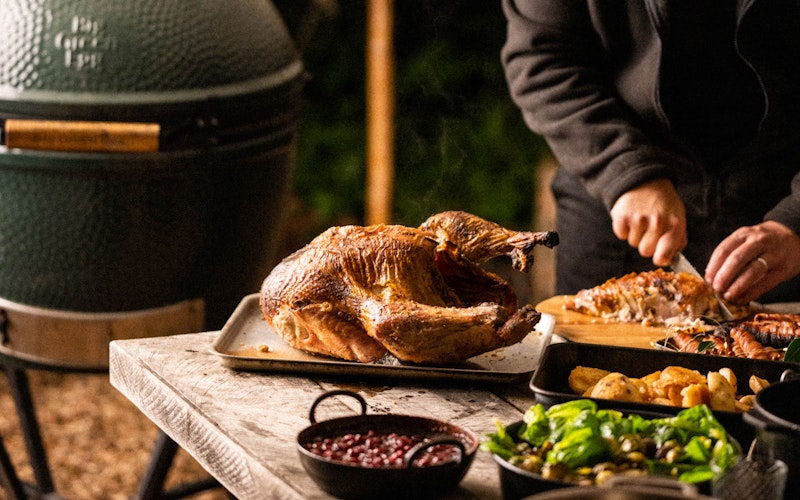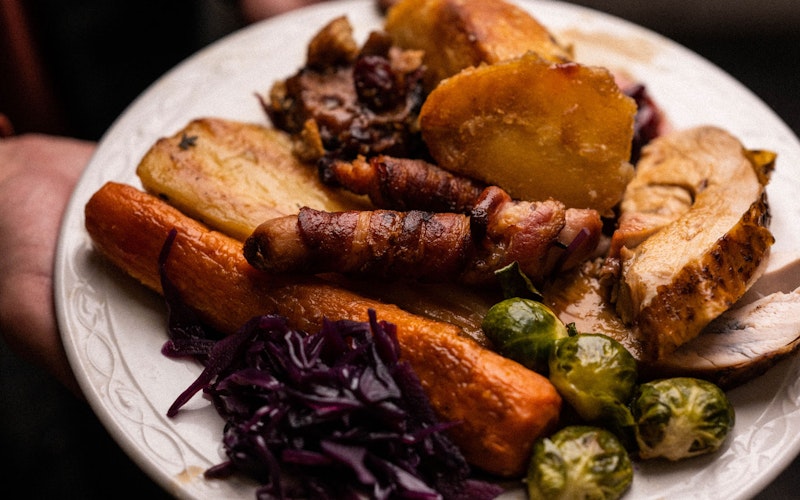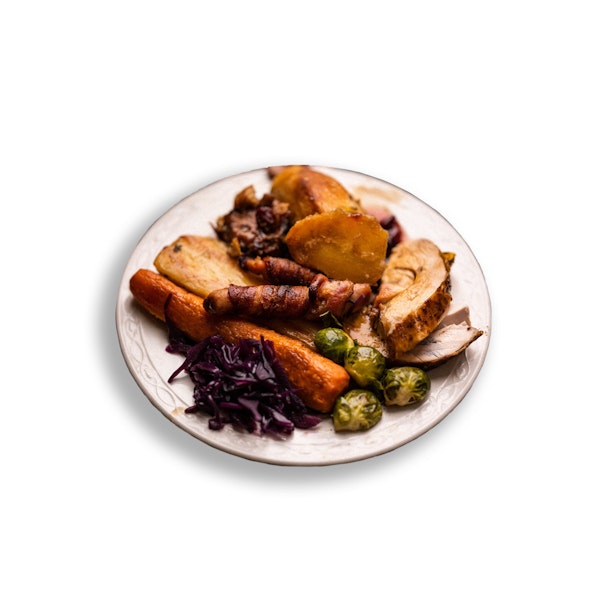 Christmas Dinner Box
This box is now SOLD OUT.
Our Big Green Egg Christmas Dinner Box contains all the ingredients you need to make an amazing three-course Christmas dinner for up to six people on your EGG or in your kitchen. For maximum convenience, the sides have been prepped in advance by the team at Tom Kerridge's The Hand and Flowers.
This box is now SOLD OUT.
Code: ACCTB-21
What's in the box?
This box is now SOLD OUT. Starter
West Country pork terrine with bramble ketchup, dill pickles & salted flatbread cracker
Main
Free-range Copas turkey with marmalade & Marmite butter
Build-your-own pigs in blankets
Pork stuffing log with date brown sauce
Crispy roast potatoes in dripping
Aromatic braised red cabbage
Honey & thyme roasted parsnips
Brussels sprouts
Glazed carrots
Proper turkey gravy
Cranberry sauce
Dessert
Christmas pudding with punchy brandy butter
Total RRP: £250
Delivery (UK mainland only): Free
10

DISHES

4-6

Serves

2-3 hours

Cooking time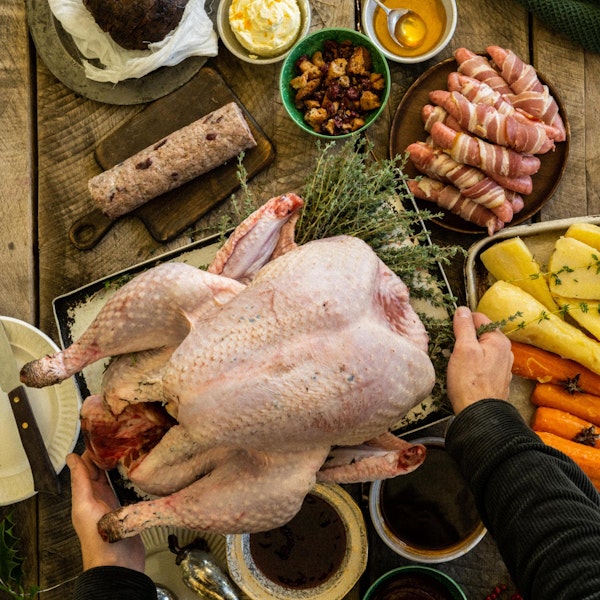 Suitable for EGG or kitchen
The menu has been designed so that every dish can benefit from the flavour-enhancing qualities of being cooked on an EGG, but they can also be brought together in a kitchen. Our instructions will guide you through both approaches.
Prepared by experts
The starter, side dishes and dessert for this amazing three-course feast have been curated and partially-cooked by the team at Tom Kerridge's Michelin-starred The Hand and Flowers restaurant, ready for you to finish off on the day.
Top quality turkey
Sourced from the Copas family farm in Berkshire, the turkey is a slow-growing traditional breed. The bird has enjoyed a genuinely free-range existence, resulting in superior fat cover and a rare depth of flavour. It's a 5kg turkey, so there'll be plenty of leftovers.
FAQs
A box containing everything you need to cook a three-course Christmas meal for 4-6 people.
Yes, the box will contain a step-by-step guide for preparing your Christmas dinner either on your Big Green Egg or in your kitchen.
£250, with free delivery within mainland UK.
Yes – delivery is free within the mainland UK.
We have two delivery dates to choose from: Tuesday 21st and Wednesday 22nd December. Simply choose your preferred delivery date when adding the box to your basket (subject to availability).
Unfortunately, as this box contains perishable goods, it is only available to those living in mainland UK. Some remote areas of Scotland may also be excluded. If unsure, call us on 01962 793800.
Providing you give an accurate mobile phone number, you will receive text messages from DPD. If you have any questions at all, please get in touch with our customer care team directly on [email protected] or 01962 793800.
Your order will be delivered in temperature-controlled recyclable boxes with recyclable ice packs, keeping your food chilled for up to 36 hours. The ice packs may melt while your order is out for delivery, but box temperatures are regularly checked to ensure the minimum chill time doesn't change.
Yes, the box contains wheat, dairy, eggs and sulphates. A full list of ingredients can be found below, but if you do have severe food allergies, we think this box is best avoided as all ingredients are prepared in an environment where cross contamination cannot be guaranteed.
West country pork terrine Smoked duck (duck, salt, water, dextrose, sodium nitrite, antioxidant, glucose syrup), smoked chicken (chicken, water, salt, glucose syrup, sunflower oil, triphosphates, sodium nitrite), ham hock (pork, water, salt, preservative), green peppercorn, dried figs
Dill pickles Baby cucumber, dill, white wine vinegar, sugar, fennel seeds, white peppercorn
Salted flatbread cracker Wheat flour, water, sea salt
Bramble ketchup Boiron blackberry puree, agar agar, caster sugar, Red wine, clove, cinnamon, apple juice, red wine vinegar
Free-range Copas turkey Free-range bronze turkey
Marmalade and Marmite butter Unsalted butter, marmalade, Marmite, table salt
Build-your-own pig in blankets Bacon (Pork, Water, Salt, sodium nitrite), chipolatas (prk, lamb, wheat flour, salt, dextrose, starch, metasulphite, citric acid, carminic acid, water, diphosphates, triphosphates
Pork stuffing log Pork mince, rusk, salt, spices, dextrose, potato starch, sodium sulphite, herbs, dehydrated onion, dried cranberries, chestnuts, onions, sage, beef fat, nutmeg, salt
Date brown sauce Dates, light brown sugar, red wine vinegar, cloves, apples, cinnamon, ginger
Crispy roast potatoes in dripping Beef fat, potatoes, salt
Aromatic braised red cabbage red cabbage, apple, salt, cinnamon, red wine, red wine vinegar, reducrrant jelly, caster sugar, orange, juniper, clove, star anise, demerara sugar, red onion
Honey and thyme roasted parsnips Parsnips, honey, thyme, goose fat, table salt
Brussels sprouts
Glazed carrots Carrots, unsalted butter, star anise, caster sugar, water
Proper turkey gravy Water, turkey bones, onion, carrot, garlic, tomato puree, thyme, black peppercorns, bay leaves, white wine, potassium metasulphite, cornflour, brandy
Cranberry sauce Sugar, water, cranberries, pectin, citric acid, orange zest, clove, sodium citrate, potassium sorbate
Christmas Pudding Vine fruit (currants, sultana, raisin), milk, sugar, wheat flour, vegetable suet, free range eggs, brandy rum
Punchy brandy butter Brandy, butter, orange, icing sugar
Unfortunately we are unable to alter the contents of the box.
Yes – the box is designed to be enjoyed on Christmas Day.
Yes – you can select an alternative delivery address to that of your billing address.
If you have any questions, you should contact Big Green Egg on [email protected] or on 01962 793800.