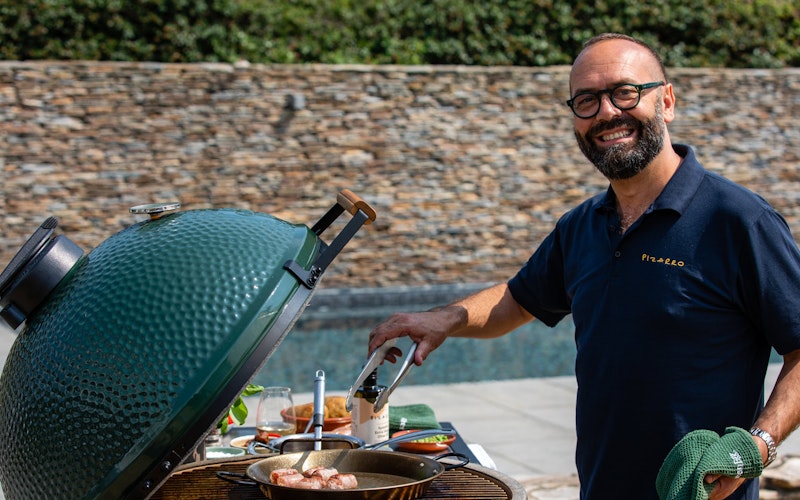 Learn from the best
There's nothing more appropriate for rewarding a bit of honest graft than a steaming plate of paella. In Valencia, the home of paella, it originated as a hearty, sustaining lunchtime dish for farmworkers, cooked in the aromatic smoke of an open fire, out in the fields.
So, to acknowledge the effort of everyone who entered our Spanish Summer Experience Box competition but didn't walk away with our main prizes, our good friend José Pizarro has put together this exclusive short video showing how he goes about making perfect paella using simple, everyday ingredients.
José loves to cook his paella on a Big Green Egg, which provides the ideal combination of direct heat to colour the bottom of the rice – the elusive, flavour-packed 'soccarat' – and an oven-like environment to keep those flavours locked in. The coals add the smoky depth and complexity that a Valencian farmer would recognise.
Store cupboard staples
José has made his paella with chicken, mushrooms and green beans, but the meat, shellfish and vegetable combinations you could use are close to infinite. Let yourself be guided by the season, your mood and what you have in your fridge and cupboard. The only thing that doesn't change is that you need about 240g of rice and 1 litre of stock to feed 4 people.
Either set up your EGG direct with an EGG target temperature of 220°C, alternatively you can use your kitchen hob and a preheated oven at 200°C.
To replicate José's version, you will require:
Chicken
Mushrooms
Chopped tomatoes (fresh or tinned)
Green beans
Garlic
Rosemary
Extra virgin olive oil
Paella rice
White wine
Chicken stock
Saffron
Smoked paprika
Salt & pepper
Out of the fire and into the Pan
An EGG is not essential – you can follow the same recipe on your hob. But one thing you can't do without is a proper pan: wide, shallow, capable of handling high heats and distributing it evenly. Our enamelled Paella Pan is all those things. It can be used on a gas hob or a conventional oven as well as in an EGG.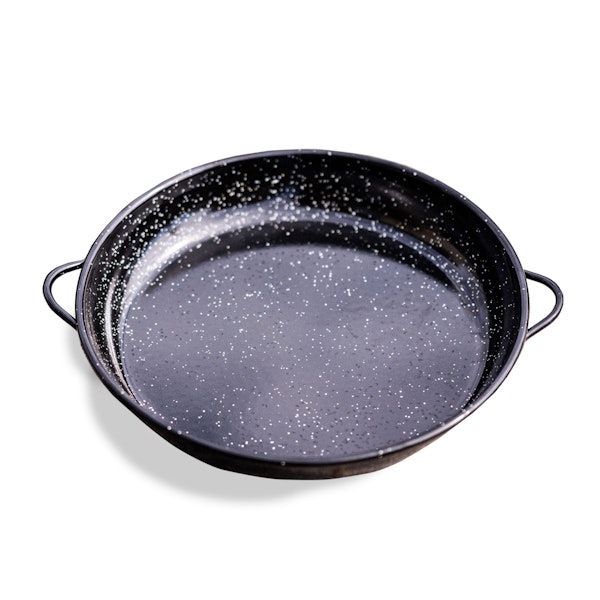 Need an EGG?
Quality ingredients deserve to be treated with respect. With a variety of modes to choose from - from smoking to slow cooking - the Big Green Egg has the ability to bring ingredients to life like no other barbecue.
Create your perfect alfresco set up with our Build Your EGG feature, or explore our recipe library to whet your appetite.